Hello,
I haven't been on here for a long time and i wanted to do some auctions to try and get some new pins for my birthday on October 28th. I miss getting pin mail.It's been far too long. This auction is for pin 51422
All my auctions will now be sent with tracking on them to avoid any potential problems.
This auction will end on October 17th at 11.00 pm UK time.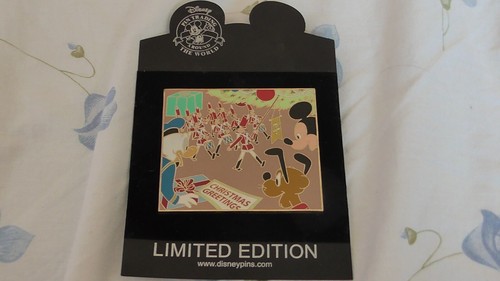 My pinpics name is butterbear ,Please look at my wants list.
Lots of lovely newer pins aren't on pinpics too,Including Gizmoduck from original Ducktales ptd,Clarice ptd, Dale ptd, New Flounder ptd,WDI Rescue Rangers pins and others i might like
Pins I'd like if possible please .
ANY PIN TRADER DELIGHTS OF ANY CHARACTERS I COLLECT [ In no particular order]
DSSH
DSF
WDI
DUFFY
SHELLIE MAY
GELATONI
LIMITED EDITIONS
ANY PINS ON MY PINPICS WANTS LIST
ROBIN HOOD CHARACTERS
SCROOGE MCDUCK
GLITTERY PRINCESSES OR PRETTY PRINCESSES ,ANY PRINCESSES REALLY ,
CUTE ANIMAL PINS
GLITTERY ANIMALS
FOX AND THE HOUND
THE RESCUERS
THE RESCUERS DOWN UNDER
GREAT MOUSE DETECTIVE
ALICE IN WONDERLAND [ NOT THE TIM BURTON ONE ]
OLIVER AND COMPANY
DISNEY AFTERNOON CARTOONS
WINNIE THE POOH AND FRIENDS
FAIRIES
CHIP AND DALE
HKDL
TOKYO
pins I don't want please
PINS I ALREADY HAVE
FAB 5
HIDDEN MICKEYS
ANY TIM BURTON MOVIES
INCREDIBLES
TRON
ROGER AND JESSICA RABBIT
STITCH WITH TEETH SHOWING
BLACK CAULDRON
PRINCESS AND THE FROG
BRAVE
HOME ON THE RANGE
PIXAR
DAMAGED
SCRAPPERS
PINS WITH SCRAPPER WARNINGS
STARTER
DATED YEAR PINS
NO CHARACTERS ON IT
THANKS FOR LOOKING AND HAPPY BIDDING, Sabrina .