Local Kevin Specialist and Frozen Nut
Staff member
DPF Moderator
The Report Button: How and When to Use it
This feature is an often misunderstood but very useful tool on the forum, so let's take a look at what it actually does and what it should be used for. We'll begin by going over what the Report button is NOT. It
does not
automatically penalize the account of the member who hits the button
or
the member whose post is being reported. It doesn't put a 'strike' on your account or the other member's account and it doesn't put you on a "troublemaker" list with forum staff or brand you a "tattletale" or anything else. There are so many good and helpful reasons for reporting content, let's focus of the positive points of this really useful forum feature.
Simply - It's just a versatile tool that alerts the Mods to the fact that something needs attention. Since Moderators and Administrators can't be everywhere at once, it is the members of DPF and their support of the community that help keep the forums clear of unnecessary posts, fix problems/issues and keep DPF free of spam. Really nothing more than hitting the help button in the Lowe's plumbing department. (Although, we hope you get faster and better service than that usually gets you. "Help is needed on the Forum. Help is needed on the Forum.")
Now, let's take a look at what it
does
do and how to find it.
The Report Button is located in the bottom left corner of each post (In a thread or a Profile comment):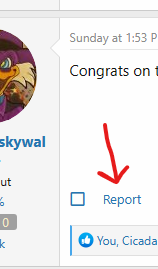 Once you click that, you'll be able to type a note explaining the issue or why you are reporting it. All reported posts will be evaluated on a case-by-case basis and may be edited or removed as moderators see fit.
There are lots of good reasons for using the Report button. Breach of rules. Posting of rude and/or condescending comments. Personal attack of one member on another. Foul language/profanity/swearing. Then there's name calling, pornography, hijacking of a thread, plain old spam, etc. Instead of replying or ignoring this behavior, you can help to keep our forum a positive experience for every member -- just push the REPORT button!
This helpful feature is also extremely useful for minor issues that need a staff member's attention. Let's say a thread is in the wrong forum board - Just hit that Report button, and the next available Mod/Admin can fix it! See a double post? Remember, it's best to use the Report button when you need help, because all Mods and Admins can see that there's a problem. It's a lot faster with that many eyes watching for problems than waiting on one person to read their PMs!
Small issue or large, please don't hesitate to let the Mods know that something needs attention. If you see an argument starting, let us know so that we can step in before it becomes inflammatory. To repeat . . . using the Report button doesn't give a negative point to the account of the person whose content is being reported or or to the account of the member reporting it. The only thing that affects a member's standing is the member's own behaviour! This little feature will enable us all to help keep DPF a place where we want to spend what little free time we have. Let's all learn to use it wisely and, for heaven's sake, let's not be afraid of it!
Contacting Moderators:
Need to contact a Moderator for something that the Report Button would not be the right tool for? General question or issue, needing help, sale/trade issue, or if you want to share something positive about a feature or something on DPF, etc. . . . If it is something that is a query or needing general help, the best place to post is the
Help Desk
board. However, if the issue or comment is something you'd like to do privately, sending a Mod/Admin a PM is what you should choose.
Current Admins are
Cicada
and
dancecats
Current Moderators are
Ksnuggles
,
starry_solo
,
GroguFan
, and
stratasfan
All messages are responded to as quickly as possible. We appreciate your patience while waiting for a response.
Thanks again for being a member of Disney Pin Forum and supporting the Disney pin trading and collecting community!